How to make your
SAP system run smoothly.
With automated 24/7 SAP monitoring, problems are detected and eliminated in real time.
Smooth SAP operation is ensured and you save time and money.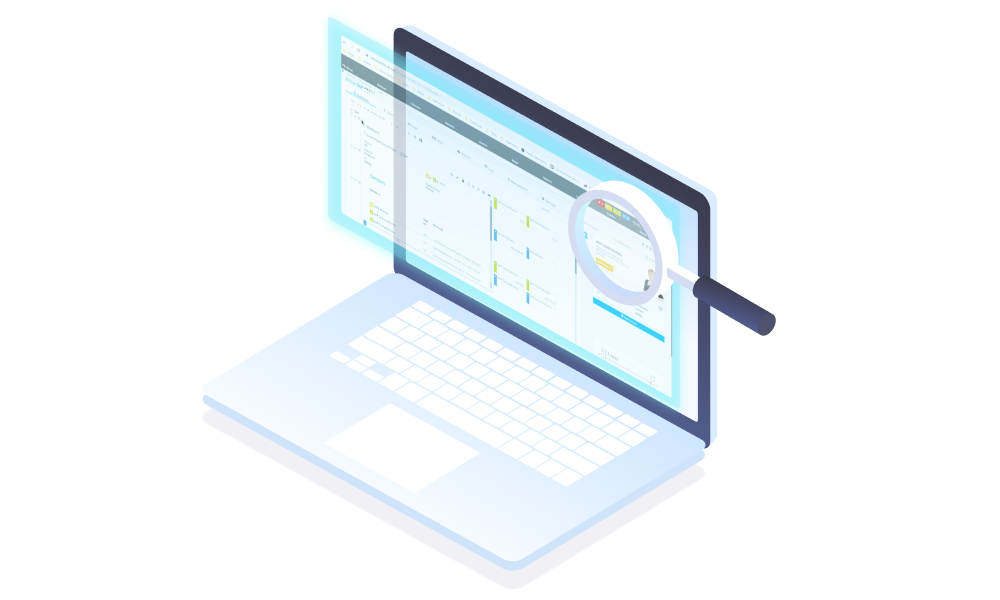 Get to know the functions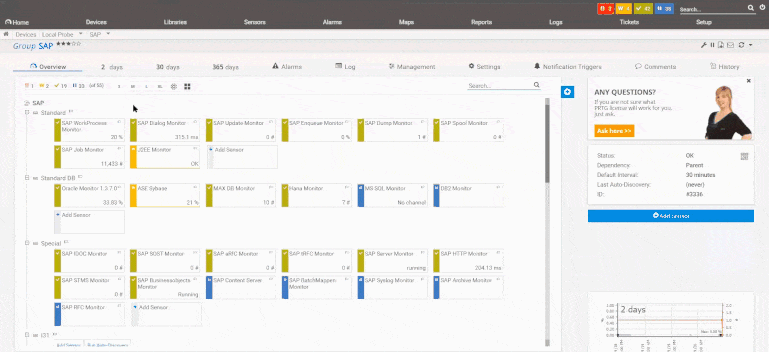 View of the sensors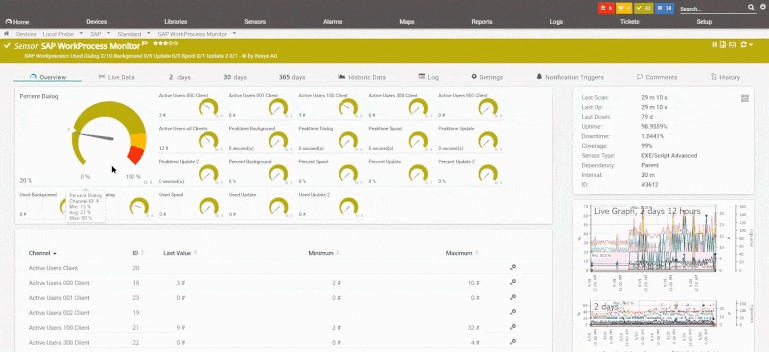 SAP Work Process Monitor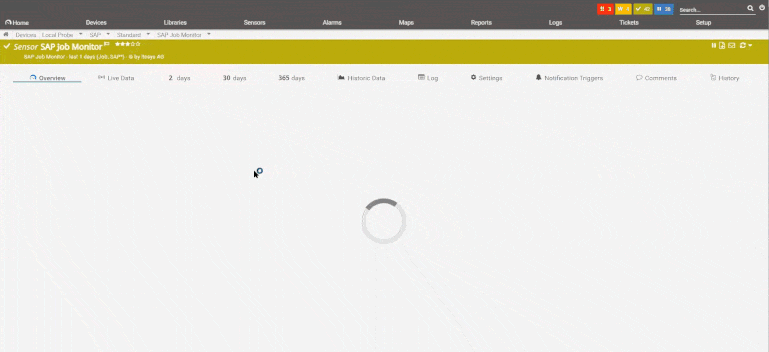 SAP Job Monitor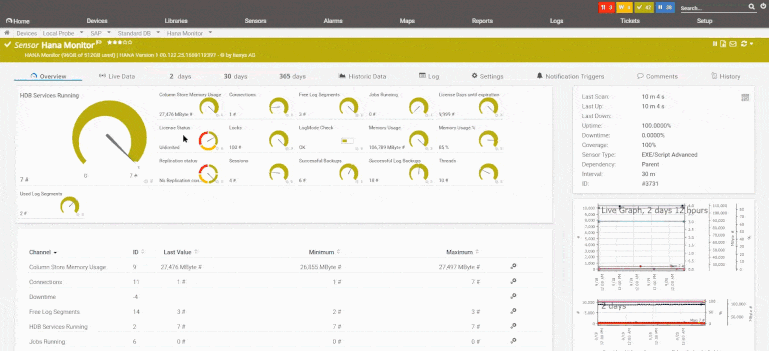 SAP HANA Monitor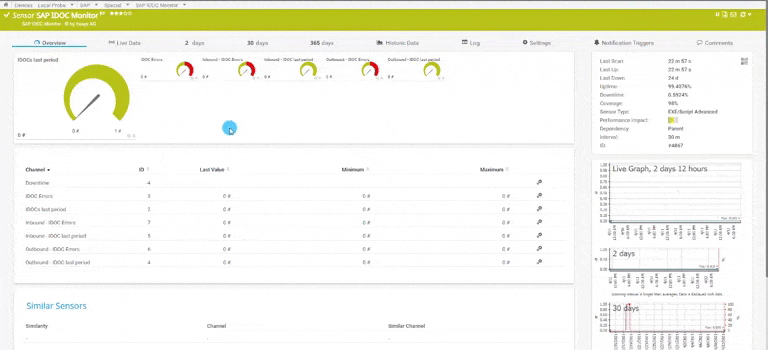 SAP IDoc Monitor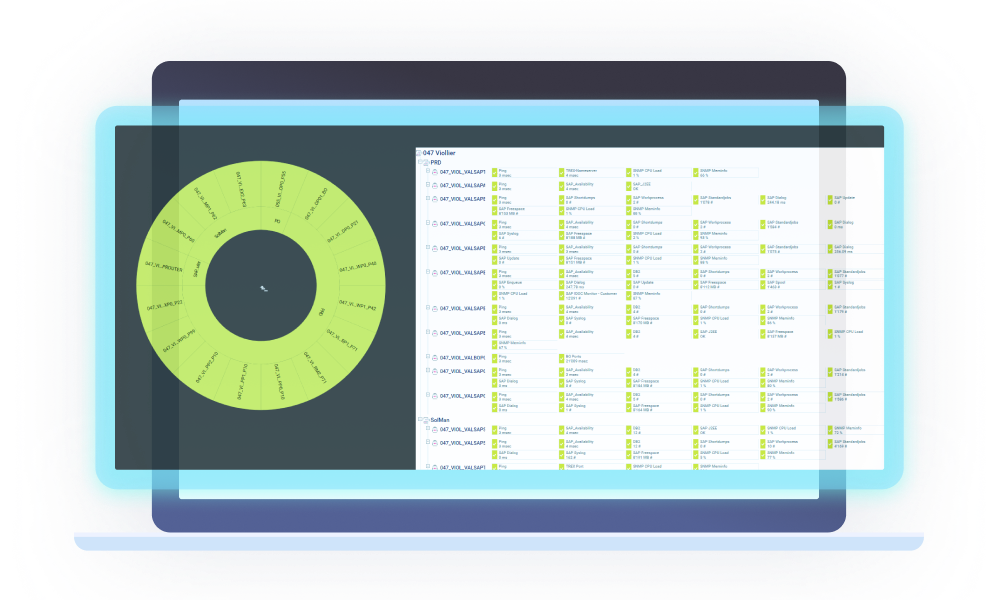 Dashboard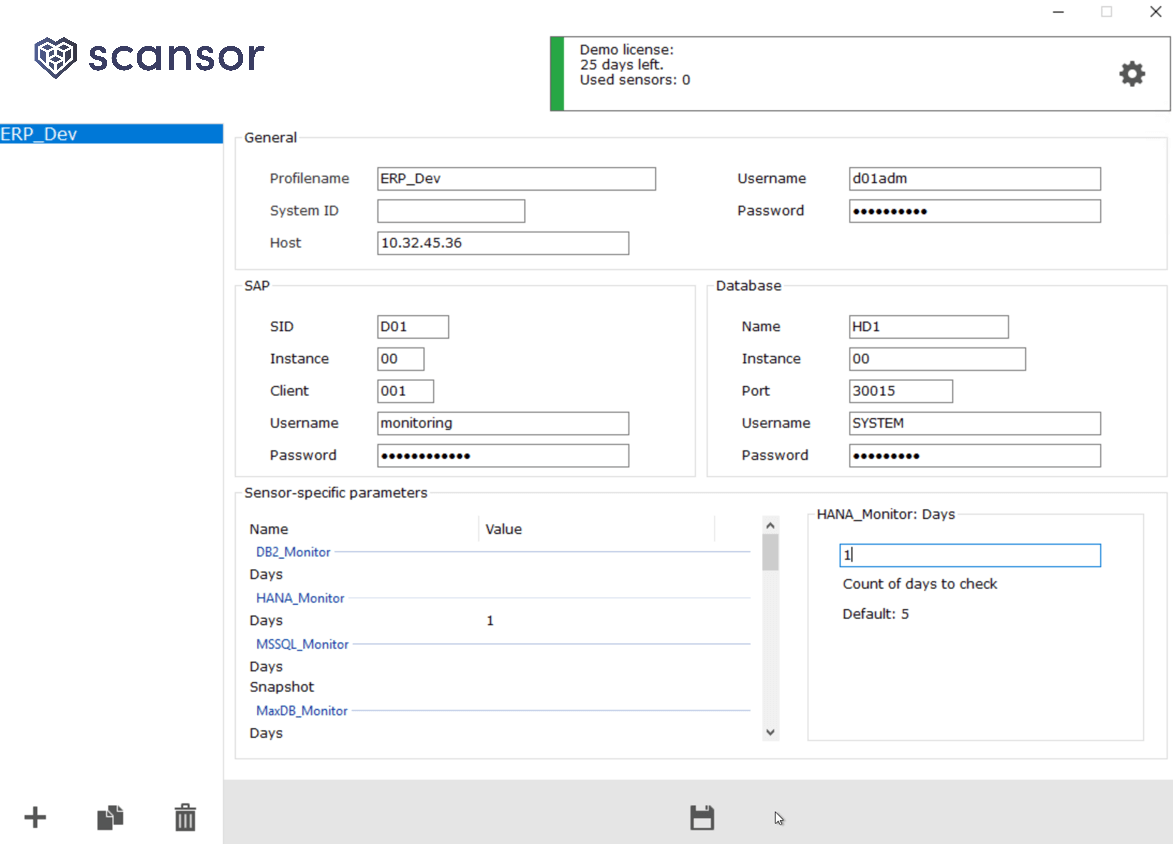 Set-up in the Profiler
Integrated functions
Scansor saves time and resources. Scansor works with data coming from the SAP core in real time, making it more reliable and faster than other products.
One solution, everything in view.
With sensors from itesys and PRTG from Paessler, you have the entire IT landscape, i.e. SAP systems, databases and infrastructure centrally in one monitoring system. One glance at the dashboard suffices.
Easy installation.
The installation is agent-free and can be carried out easily and independently thanks to the installer with installation instructions. Immediately after the quick set-up, the query values are visible in the monitoring.
24/7 Live status information.
Visualization of the current monitoring status information in the dashboard. The adjustable layout can be customized, and additional systems can be monitored and shared.
Flexible notifications.
Selected recipients are automatically notified. For example, by e-mail push message, by SMS and much more. The notifications can be set individually and flexibly according to your needs and schedules.
Individual reporting.
Customizable reports to compare your specific monitoring data over particular time frames. Recognition of dependencies and elimination of error sources.
Scalable fair licensing.
You can test the full version free of charge for 30 days before purchasing. The transparent pricing model is based on the number of sensors and includes a license and maintenance fee. An upgrade is possible at any time.
Sensors for every need.
The Scansor SAP sensors and PRTG enable comprehensive SAP monitoring that seamlessly monitors even large SAP and IT landscapes. They measure, inform and send an automatic alarm when defined threshold values are exceeded.
SAP Standard
The SAP Standard sensors should be installed as a minimum for monitoring a SAP system. This is the most important monitoring data for the Health Check.
SAP Update Monitor
Monitoring of Update errors

SAP Enqueue Monitor
Monitoring of the enqueue status of a SAP system

SAP Job Monitor
Monitoring of SAP jobs

SAP Dialog Monitor
Monitoring the dialog response times

SAP Dump Monitor
Monitoring of system dumps
SAP Spool Monitor
Monitoring spool requests

SAP Workprocess Monitor
Displays the load of a SAP system

SAP Client Monitor
Monitors the changeability of SAP clients and global setting of SAP transaction SE06

SAP J2EE Monitor
Monitoring of a SAP Java instance

SAP System Monitor
Monitors all instances and processes of a SAP system
SAP Databases
With the SAP Database sensors, status information, security and performance can be monitored and storage space problems detected.
MaxDB Monitor
Monitors Usage, Backups und SAP CheckDB

Oracle Monitor
Monitors the backups and tablespaces of an Oracle database

DB2 Monitor
Monitors the backups and tablespaces of a DB2 databases und SAP CheckDB

NEW Oracle DataGuard Monitor
Monitors the status of an Oracle Data Guard cluster
HANA Monitor
Monitors license, services, replication status, backups etc. for a SAP HANA database

MSSQL Monitor
Monitors backups and fill levels from an MS SQL database

Sybase Monitor
Monitors sessions, status, locks, usage, backups, log backups of all Sybase DB's in one installation'
SAP Cloud Solutions
The SAP Cloud Solution Sensors monitor specific SAP Cloud Services respectively SAP middleware solutions.
SAP Cloud Connector Monitor
Status monitoring of SAP Cloud Connector, the subaccounts as well as the certificates and the memory usage of the host

SAP CPI Monitor
To monitor the status of the iFlows (integration flows) on SAP Cloud Platform Integration

SAP SF Execution Monitor
Collects the exceptions from the Execution Management that is configured on the SuccessFactors cloud service

SAP Security
The use of the SAP security sensors can support you to safeguard your SAP systems.
SAP CriticalPermissions Monitor
Displays the number of users which have defined permissions or a combination of permissions.

SAP Certificate Monitor
Shows the status of SAP certificate.

SAP Parameter Monitor (with security preset)
Checks security related parameters for the correct values depending on the official SAP Security Baseline.
SAP Syslog Monitor (with security preset)
Checks the system log for security related error codes.

SAP Release Monitor
Generates a list with important component versions like Netweaver, Kernel and Common Cryptolib to identify affected systems after the release of a new SAP security note.

SAP User Monitor
Lists the count of users depending on status and type and checks the special user SAP* for the correct configuration according to the SAP recommendation.
SAP Special sensors
The SAP Special sensors offer additional KPIs that are not necessarily required on every SAP system, but can be very helpful for the Health Check.
SAP Release Monitor
Display of version information of installed products and components of a SAP ABAP system

SAP JobLog Monitor
Searches for specific words or a regular expression within the job logs

SAP CPI Monitor
To monitor the status of the iFlows (integration flows) on SAP Cloud Platform Integration

SAP Application Log Monitor
Checks the application log (SLG1) for errors

SAP Parameter Monitor
Checks one or more SAP profile parameters for desired values using different comparing operators

SAP IDoc Monitor
Monitoring of all IDocs

SAP SOST Monitor
Monitors outgoing messages

SAP STMS Monitor
Transport monitoring

SAP aRFC Monitor
SM58 Monitoring

SAP RFC Monitor
Monitoring of ABAP RFC connections

SAP Content Server
Monitors status of SAP Content Server

SAP HTTP Monitor
Monitors dialog response times filtered on type HTTP

HANA SDI Monitor
Monitors the status of the data provisioning agent and the connected remote sources as well as the different status of the scheduled tasks

SAP tRFC Monitor
Monitoring of transactional RFC's per client / TA SMQ1 / SMQA / SMQ2

SAP Syslog Monitor
Monitoring of Syslog entries

SAP BusinessObjects Monitor
Monitors the status of SAP Business Objects

SAP IDM Monitor
Monitoring of IDM dispatchers on linux systems

SAP PI/PO Monitor
Monitors the amount of faulty PI messages of type "system error" and "cancelled"

SAP BatchMappen Monitor
Monitors the transaction SM35

SAP Freespace Monitor
Monitors free space of SAP and database specific drives / mount points

SSH Memory Info
Monitors the memory usage on a linux system

SSH File Monitor
Monitors the modification date of one or more files on a linux system

SAP bgRFC Monitor
Monitors tRFC/qRFC inbound and Outbound queues for errors and locks

NEW SAP WebService Monitor
Monitors the asynchronous ABAP Web Service Messages

Frequently asked questions.
Here, you will find answers to most questions.
Please contact us if anything is unclear to you.


We define a sensor as a measuring point that picks up a collection of one or more queries on a specific aspect in the SAP system or a database. For example, the number of update errors in the SAP system, the number of aborted SAP jobs or back-ups and the filling levels of a database. An overview of the sensors can be found here.
How do I monitor SAP systems?
As a minimum monitoring for every SAP system or SAP application, it is necessary to have an overview of the SAP Basis, i.e. to keep an eye on updates, dialogs, dumps or individual SAP jobs. In our SAP monitoring solution, this is already covered by the SAP standard sensors. In addition, other important values can be monitored in various systems, which we call SAP Special sensors. These include, for example, IDocs, RFC connections, STMS, Syslog, and so on.
How do I monitor SAP databases?
Scansor offers SAP Database sensors as an add-on for PRTG with sensors for databases such as SAP HANA, Sybase, MaxDB, Oracle, Db2 or MSSQL. With the SAP Database sensors, status information, security and performance can be monitored and storage space problems detected. For example, the sensors measure the number of successful back-ups and log back-ups and the filling levels of the database.
What license sizes are available?
| | |
| --- | --- |
| Package | Number of sensors |
| license package 25 | 25 |
| license package 50 | 50 |
| license package 100 | 100 |
| itlicense package 200 | 200 |
| license package500 | 500 |
| license package Enterprise Edition | Unlimited |
How do I find the right license size?
Our licenses are based on the number of sensors used.
We recommend that you cover a minimum with the SAP standard sensors. For this, you need approximately per:
ABAP system = 8 sensors (7 sensors in SAP plus 1 DB)
Java system = 2 sensors (1 sensor plus 1 DB)
DB = 1 sensor (e.g. HANA, Sybase, Oracle) and replication if necessary

Our
calculator
will help you with the calculation!

Even with the smallest license package 25 (number: 25 sensors), you can already monitor a 3-system landscape securely.

The software shows you the number of used and still free sensors at any time.
This also applies to the free version, which allows you to test the software for 30 days and then select the appropriate license size.

Contact us if you are still unsure about the license size. We are happy to help you.

By the way: An upgrade to a larger license package is possible at any time – you only pay the price difference.
How is the price calculated?
The price is calculated based on the One-time license fee for the purchase of the Scansor SAP sensors license plus a maintenance fee of max. 20% from the first year.
What does maintenance mean?
With maintenance, you receive all updates and upgrades (enhancements and new developments) for the Scansor SAP Monitoring; that is, numerous improvements or bug fixes as well as newly developed sensors and features. You will also receive preferential support via our customer service (ticket tool) in the customer area.
How does installation work for a PRTG cluster?
For a cluster installation, please contact us in advance.
Cluster installation: The Scansor Framework must be installed on both PRTG servers. The customized profiles.db database can be copied to the second PRTG server for comparison. It requires one license key per server.
Contact us before you buy. We are happy to help you.
When is remote monitoring needed?
As soon as SAP systems, network infrastructures and devices are distributed across local sites, branch offices, customer networks, data centers and in the cloud, and all systems are to be monitored centrally in one place.
Or if you want to relieve the PRTG core server by distributing part of the load to one or more PRTG remote probes.
You can split a Scansor license package between your remote probes. We would be happy to advise you on this.
Help on "PRTG Remote Probe":

You can extend PRTG monitoring to your distributed networks as far as needed by installing one or more remote probes. With these remote probes, you can monitor different subnetworks that are separated by a firewall from your local PRTG core server, in order to keep an eye on remote locations.

Details can be found directly on the Paessler page:

https://www.de.paessler.com/remote-monitoring
How can I monitor remote probes with one license?
The license key is basically bound to a single PRTG server (machine ID). However, if there are several remote probes, the Scansor SAP Monitoring license can be split between the individual remote probes. To do so, you need a dedicated license key from us for each server. During the order process during license activation, we will inform you about this option. It is even better if you contact us for clarification before ordering.
For example:
Your landscape needs about 80 sensors for complete monitoring. Therefore, select the appropriate license package 100 and then divide it among your remote probes. For this purpose, the license 100 is split into several license keys with the desired number of sensors. For example: 1x40 sensors for Remote Probe 1 and 2x30 sensors for Remote Probe 2 and 3. This must be strictly observed during license activation. Don't worry, we'll guide you through the process.
How can I test the SAP sensors before buying?
Click on the button to test 30 days free of charge!


Register and download the software in its full version, including installation instructions. Afterwards activate your free 30-day license. Make a decision at leisure after the test run and ask us your questions in the meantime. Are you missing any query values? We also develop customized sensors for you. Contact us.
How can I start directly?
Select and order the appropriate license. After the installation to your PRTG installation, activate your license key and use it.
Our installation guide will guide you quickly and easily through the process. Follow the instructions after the download. If you have any questions, please contact the support team.
No PRTG in use yet? You can also use PRTG for 30 days free of charge!

Contact us; we will, of course, also offer you the right PRTG license size for purchase!
Do you lack the time or expertise to conduct your own Scansor installation?

We'll take care of it for you. Simply select the installation service (subject to a fee) when ordering.
What do I do when the sensor limit is reached?
You can always uninstall sensors from systems that you do not need and reset the counter. You still want more sensors? An upgrade to a larger license is possible at any time – you only pay the price difference.
What are the benefits of Scansor SAP Monitoring?
Our preconfigured sensors access SAP or the database directly via RFC/ODBC and not via CCMS
All SAP systems and peripheral systems at a glance in PRTG – including infrastructure monitoring, because comprehensive monitoring means more than just SAP monitoring
State-of-the-art SAP HANA monitoring
Monitoring of SAP jobs, IDoc, certificates, SOST, Java etc. and all SAP databases
Easy to install and set up, updates done quickly and easily
No specific expertise necessary
Guaranteed continuous development of the Scansor sensors
With Scansor SAP Monitoring, you can automate routine tasks, save costs and increase efficiency
A product of itesys
SAP Basis – our hearts beat for this topic and our minds work on it. We are wholehearted technicians and service providers who are always looking for optimal and sustainable solutions for our customers.
itesys - SAP Basis specialists from conviction.